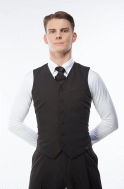 RS-WALTER Walter waistcoat £89 excl.VAT - Now only £79 excl.VAT

Walter is the classic ballroom waistcoat beautifully made, fully lined and available in 3 colours: Plain black (see photo), Black stripe black (to match Lorenzo Trendy trousers) or Grey stripe/Grey (to match Lorenzo London trousers).

Walter waistcoat is shown with Daniele stretch shirt (shirt not included).

The manufacturer's recommended sizing is very generous, if you are anywhere in between sizes we recommend taking the smaller one!