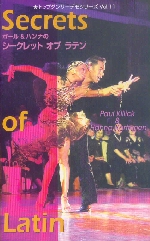 This video will allow to study Paul's and Hanna's approach to their dancing.

Paul and Hanna demonstrate 5 complete choreography programmes for 5 dances:
Samba
Cha-cha
Rumba
Paso doble
Jive
Each dance is presented:
Dancing together to the music
Dancing together to the count only
A "secret" eg. what Paul and Hanna find most important priority in that dance
In the last part of the video they make a full demonstration of all 5 dances in full setup with lighting and costume changes.

Running time: 40 min approx.

This DVD is in NTSC II format which apparently does not work on American DVD players, unless you have a multi-region one.



Ref: HW061 Price £19.95