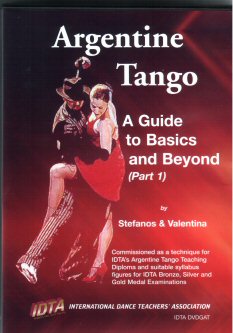 Commissioned as a technique for IDTA's Argentine Tango Teaching Diploma and suitable syllabus figures for IDTA Bronze, Silver and Gold Medal Examinations.

This DVD contains:
Basic Step
Front Eights
Back Eights
Cross Basic
Change of Direction
Sandwich
Rock Turn
Cross Body Basic
Displacement from Front Eights
Cross Basic with Displacement
Demonstration suggested Bronze Routine
Cross-Basic with Displacement
Half-Moon
Sweep
Displacement with Hook
Displacement with Front Voleo
Demonstration suggested Silver Routine
Giro with Spiral
Various Displacements
Bicycle with Lady's Displacement
Low Voleo - Adagio Poise and Hook
Displacement with Centreipetal and Centrifugal forces
Demonstration suggested Gold Routine
Exercises
Running time: 60 min. approx.


Ref: DSI-78230 Price £49.95 excl.VAT