Available now:

Two DVD releases are available for 2018 Blackpool Dance Festival: Professional/Amateur Ballroom and Professional/Amateur Latin.

Each release is a double DVD containing the highlights of the quarter-finals, semi-final and final in full. The Results announcement is also included.

As always Blackpool DVDs show a truly breathtaking show and spectacular outfits! Multi-camera professional footage.

SPECIAL FEATURES: 67 minutes

For the first time ever our DVD coverage includes a full recording of the Team Match, always a highlight of Blackpool Dance Festival and particularly memorable this year for the retirement of Ballroom superstars Arunas Bizokas and Katusha Demidova. The special features also include individual recordings of the Professional Ballroom finalists doing battle on the dance floor.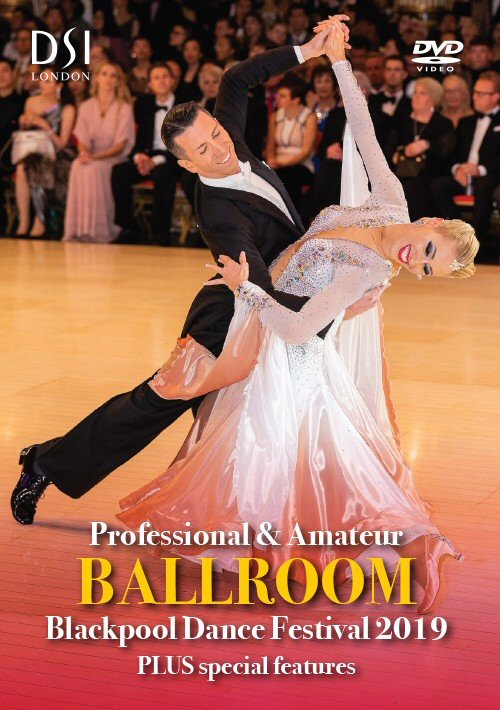 PROFESSIONAL BALLROOM 88 minutes

Final
Andrea Ghigiarelli & Sara Andracchio, England
Domen Krapez & Natasha Karabey, Germany
Valerio Colantoni & Monica Nigro, Italy
Aleksandr Zhiratkov & Irina Novozhilova, Russia
Stanislav Zelianin & Irina Cherepanova, Russia
Sergiu Rusu & Dorota Rusu, Poland
Stas Portanenko & Nataliya Kolyada, Ukraine
Semi-final
Lukasz Tomczak & Aleksandra Tomczak, Poland
Gaetano Iavarone & Emanuela Napolitano, Italy
Diego Arias Prado & Ekaterina Ermolina, Spain
Dusan Dragovic & Valeriya Agikyan, England
Eldar Dzhafarov & Anna Sazina, Azerbaijan
Marek Kosaty & Paulina Glazik, Poland
Wiktor Kiszka & Julia Granath, England
Quarter-final
Chong He & Jing Shan, China
Alessio Potenziani & Veronika Vlasova, Russia
Iaroslav Bieliei & Liliia Bieliei, USA
Rüdiger Homm & Katya Kanevskaya, USA
Mark Elsbury & Olga Elsbury, England
Cristian Radvan & Kristina Kudelko, USA
Go Hashimoto & Keiko Onda, Japan
Sergei Sutyrin & Natalya Sazhina, Russia
Vladislav Shahov & Ekaterina Popova, USA
Oskar Wojciechowski & Karolina Holody, USA
Jack Beale & Nataliia Beale, England
Gianni Caliandro & Arianna Esposito, Italy
Valeriu Ursache & Liana Bakhtiarova, USA
Andrii Mykhailov & Anna Bohachova, Ukraine
Alexandr Voskalchuk & Veronika Egorova, USA
AMATEUR BALLROOM 77 minutes

Final
Fedor Isaev & Anna Zudilina, Russia
Kyle Taylor & Izabela Skierska, England
Igor Reznik & Mariya Polischuk, Ukraine
Michal Le & Sandra Jablonska, Poland
Si Cheng Li & Liis End, China
Artem Kuklin & Alika Dikaya, Ukraine
Semi-final
Jianan Peng & Jia Ci Zhong, China
Alex Gunnarsson & Ekaterina Bond, Iceland
Oleksandr Kalenyuk & Olena Ablitsova, USA
Alex Plant & Leanne Han, England
Ilya Golovchenko & Kristina Bogoslavskaya, Russia
Angelo Gaetano & Clarissa Morelli, USA
Quarter-final
Danil Dobrovolskiy & Anastasiya Malovana Ukraine
Maciej Kadlubowski & Maja Kopacz, Poland
Xie Cong Xian & Luo Yuting, China
Dan Malov & Stephanie Noon, USA
Zhao Yi Heng & Faye Edge, China
Krzysztof Myka & Agnieszka Osrodka, Poland
Yuriy Prokhorenko & Mariya Sukach, Ukraine
Nikita Druzhinin & Virginie Primeau, Canada
Vasiliy Kirin & Ekaterina Prozorova, Austria
Andriy Zinchenko & Ekaterina Bajsarova, Ukraine
James Cutler & Eva Marie Egsmose, England
Michael Foskett & Nika Foskett, England
Ivan Iacobbe & Ylenia Dalla Bona, Italy


The DVDs are multi-region and are compatible with PAL and NTSC systems.

Price £49.95 excl.VAT