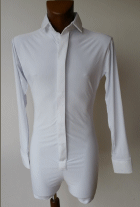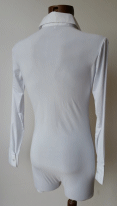 E-MS041 Universal Practice shirt - White £57.00 excl.VAT

Very soft, two way stretch microfibre. With buttons behind a front pleat, collar and cuffs. The shirt is built on shorts, so it will never pull out from your trousers.

This shirt will fit Medium/Large body frames. For Small body frame consider Elegance PSHIRT1 Practice shirt (Black or White) or Chrisanne BPS which are similar, but smaller in the body.